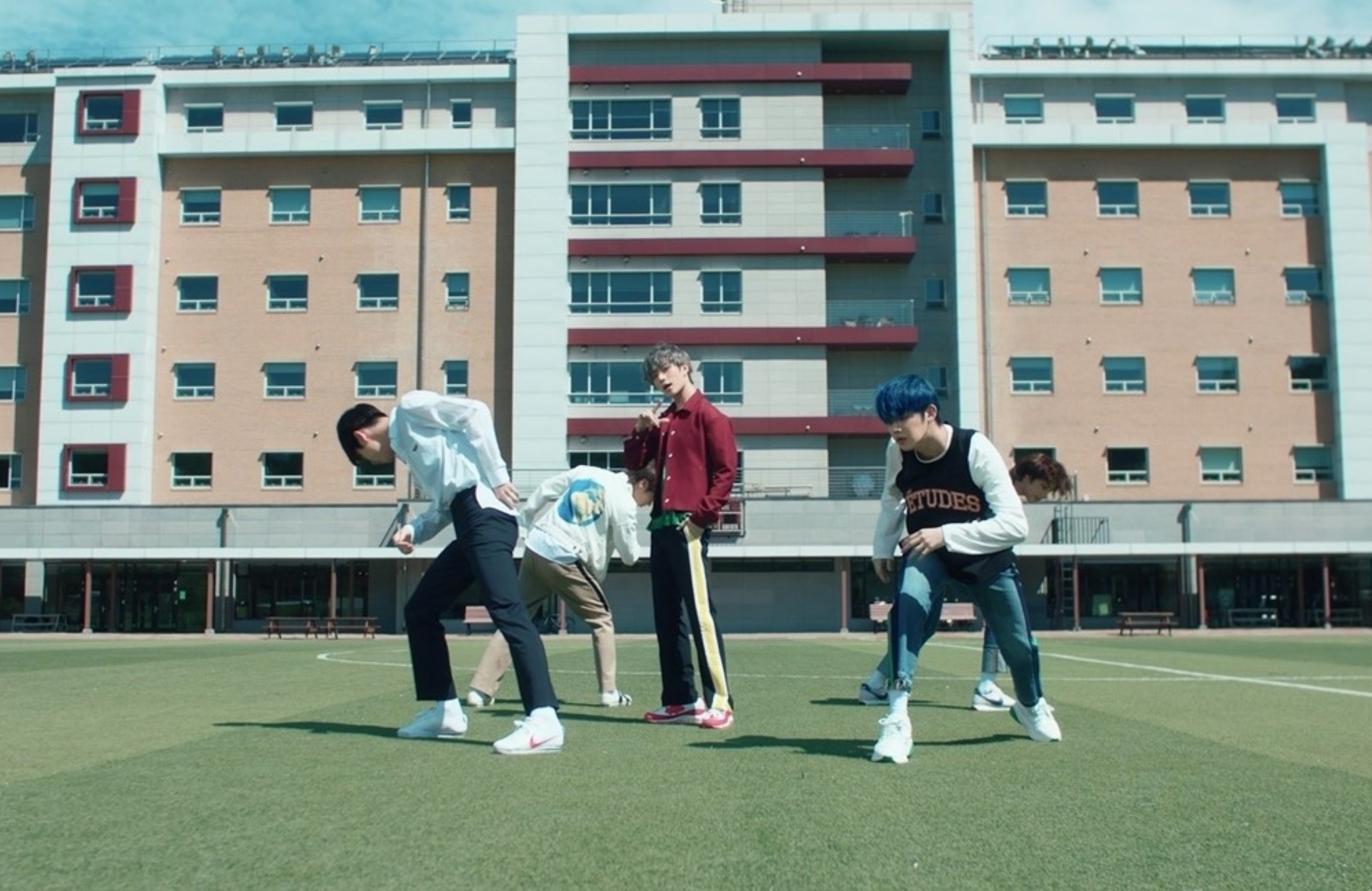 9 and Three Quarters – TXT Testo e Traduzione. Wikitesti.com è la più grande enciclopedia musicale italiana, sul nostro sito oltre i testi delle canzoni potete trovare: traduzioni delle canzoni, accordi per chitarra, spartiti musicali e molto altro.
TRADUZIONE IN ITALIANO
9 and Three Quarters – TXT
Penso che tutti siano felici tranne me
Fa male ridere più che piangere
Anche se provo a sopportarlo ogni giorno
Non va bene, ora ho bisogno delle tue mani
A quel tempo, quando arrivano le lacrime
Tieni la mia mano stretta, devo scappare?
Nascosto 9 e 3/4
Possiamo andare insieme
Bibbidi Bobbidi il treno parte
Bibbidi Bobbidi la nostra isola magicaDopo questo tunnel
Dopo aver aperto gli occhi
I sogni diventano realtà
Sii la mia eternità, chiama il mio nome
Scappa, scappa, scappa con me
Alla fine del mondo per sempre insieme
Scappa piccola, rispondimi
Dimmi di sì "No" significa no
Non voglio restare, adesso vai
Se tu ed io stiamo insieme
Dimmi di sì "No" significa no
Non voglio restare, adesso vai
Portami ora alla magia di noi
Non voglio svegliarmi
La mia canna è un interruttore di allarme
Nuotiamo nello spazio
Diventa due stelle di coda, bungee
Va bene, non aver paura
Stiamo insieme
Quando questa notte sta per finire
Riavvolgi l'orologio ora riavvolge
Scherzo proibito e questa ora magica
Scintilla di fiamma blu
Cerchio magico azzurro, voglio dipingere l'aula
L'incantesimo di Summon ti connette con me
Quando apri gli occhi attraverso questo tunnel
I sogni diventano realtà
Sii la mia eternità, chiama il mio nome
Scappa, scappa, scappa con me
Alla fine del mondo per sempre insieme
Scappa piccola, rispondimi
Dimmi di sì "No" significa no
Non voglio restare, adesso vai
Se tu ed io stiamo insieme
Dimmi di sì "No" significa no
Non voglio restare, adesso vai
Portami ora alla magia di noi
In una notte buia sotto le scale
Nel momento in cui ti ho visto, la magia è iniziata
Facciamo un incantesimo con le tue lacrime
Non piangere di nuovo
Sii la mia eternità, chiama il mio nome
Scappa, scappa, scappa con me
Alla fine del mondo per sempre insieme
Scappa piccola, rispondimi
Dimmi di sì "No" significa no
Non voglio restare, adesso vai
Se tu ed io stiamo insieme
Dimmi di sì "No" significa no
Non voglio restare, adesso vai
Portami ora alla magia di noi
TESTO ORIGINALE 
Il Testo della della canzone Di: 9 and Three Quarters – TXT
9 and Three Quarters – TXT
[English translation:]

Seems like everyone else but me is happy
It hurts more to laugh than to cry
I try to hold it in, I try to endure, every day
But it's not easy, right now, I need your hand

In those times, when tears come
Hold my hand tight, shall we run away?
In the hidden platform of 9 and 3/4
We can only get through if we're together

Bibbity boppity, the train is about to depart
Bibbity boppity, to our magic island
After this tunnel, after we open our eyes
Our dreams will become reality

Be my forever, call my name
Run away, run away, run away with me
To the ends of the earth, forever together
Run away babe, please give me an answer

Tell me "yes", don't say "no"
Don't wanna stay, now let's go
When we're together, we can run across the sky
Tell me "yes", don't say "no"
Don't wanna stay, now let's go
Take me away with the spell of us

I don't, I don't wanna wake up
My staff is an alarm breaker
We're swimming through space
We'll be the tail end of a constellation and bungee
It's okay, don't be afraid
We'll be with you

When this night is about to be over
Turn back time, rewind
A forbidden game in this magic hour
A blue light will blossom

I wanna color the classroom with this sky blue magic
So the summoning spell can connect us together
After this tunnel, after we open our eyes
Our dreams will become reality

Be my forever, call my name
Run away, run away, run away with me
To the ends of the earth, forever together
Run away babe, please give me an answer

Tell me "yes", don't say "no"
Don't wanna stay, now let's go
When we're together, we can run across the sky
Tell me "yes", don't say "no"
Don't wanna stay, now let's go
Take me away with the spell of us

On a dark night, under the stairs
The moment I saw you, the magic had started
Let's make a spell with your tears
So you will never cry again

Be my forever, call my name
Run away, run away, run away with me
To the ends of the earth, forever together
Run away babe, please give me an answer

Tell me "yes", don't say "no"
Don't wanna stay, now let's go
When we're together, we can run across the sky
Tell me "yes", don't say "no"
Don't wanna stay, now let's go
Take me away with the spell of us

[Romanized:]
Naman ppaego da haengbokhan geotman gata
Uneun geotboda useul ttaega deo apa
Maennal chamaboryeo haedo beotyeoboryeo haedo
Geuge jal andwae, jigeum naegen ne soni piryohae

Geureol ttaen, nunmuri nal ttaen
Nae soneul kkwak jaba, domanggalkka?
Sumgyeojin guwa sabune samen
Hamkkeyeoya gal su isseo

Bibidi babidi yeolchaga chulbalhane
Bibidi babidi uriye maejik aillaendeu
I teoneoreul jinamyeon nuneul tteugo namyeon
Kkumsogeun hyeonshiri dwae

Nae yeongwonhi dwaejwo nae ireum bulleojwo
Run away, run away, run away with me
Sesange kkeuteseo forever together
Run away babe naege daedab haejwo

Malhaejwo yes 'ani'neun no
Don't wanna stay ja ije go
Neowa na hamkkeramyeon haneul wireul dallyeo
Malhaejwo yes 'ani'neun no
Don't wanna stay ja ije go
Jigeum nal deryeoga jwo uriraneun mabeobe

I don't, I don't wanna wake up
Nae jipangineun allam beureikeo
Uju sogeul urin heeom
Du gaeye kkoribyeori dweeo bungee
It's okay, don't be afraid
Uriga hamkkehae

I bami kkeutnaryeo hal ttaen
Shigyereul dwegama jigeum rewind
Geumjidwen jangnangwa i magic hour
Pureun bit bukkochi pieo

Haneulbit mabeobjin, gyoshireul saekchilhallae
Sohwane jumuni neowa nal ieo juge
I teoneoreul jinamyeon nuneul tteugo namyeon
Kkumsogeun hyeonshiri dwae

Nae yeongwonhi dwaejwo nae ireum bulleojwo
Run away, run away, run away with me
Sesange kkeuteseo forever together
Run away babe naege daedab haejwo

Malhaejwo yes 'ani'neun no
Don't wanna stay ja ije go
Neowa na hamkkeramyeon haneul wireul dallyeo
Malhaejwo yes 'ani'neun no
Don't wanna stay ja ije go
Jigeum nal deryeoga jwo uriraneun mabeobe

Kamkamhan bam geu gyedan miteseo
Neol bon sungan mabeobeun shijakdwaesseo
Ne nunmullo jumuneul mandeulja
Dashin ulji anke

Nae yeongwonhi dwaejwo nae ireum bulleojwo
Run away, run away, run away with me
Sesange kkeuteseo forever together
Run away babe naege daedab haejwo

Malhaejwo yes 'ani'neun no
Don't wanna stay ja ije go
Neowa na hamkkeramyeon haneul wireul dallyeo
Malhaejwo yes 'ani'neun no
Don't wanna stay ja ije go
Jigeum nal deryeoga jwo uriraneun mabeobe

[Korean:]

나만 빼고 다 행복한 것만 같아
우는 것보다 웃을 때가 더 아파
맨날 참아보려 해도 버텨보려 해도
그게 잘 안돼, 지금 내겐 네 손이 필요해

그럴 땐, 눈물이 날 땐
내 손을 꽉 잡아, 도망갈까?
숨겨진 9와 4분의 3엔
함께여야 갈 수 있어

비비디 바비디 열차가 출발하네
비비디 바비디 우리의 매직 아일랜드
이 터널을 지나면 눈을 뜨고 나면
꿈속은 현실이 돼

내 영원이 돼줘 내 이름 불러줘
Run away, run away, run away with me
세상의 끝에서 forever together
Run away babe 내게 대답 해줘

말해줘 yes '아니'는 no
Don't wanna stay 자 이제 go
너와 나 함께라면 하늘 위를 달려
말해줘 yes '아니'는 no
Don't wanna stay 자 이제 go
지금 날 데려가 줘 우리라는 마법에

I don't, I don't wanna wake up
내 지팡이는 알람 브레이커
우주 속을 우린 헤엄
두 개의 꼬리별이 되어 bungee
It's okay, don't be afraid
우리가 함께해

이 밤이 끝나려 할 땐
시계를 되감아 지금 rewind
금지된 장난과 이 magic hour
푸른 빛 불꽃이 피어

하늘빛 마법진, 교실을 색칠할래
소환의 주문이 너와 날 이어 주게
이 터널을 지나면 눈을 뜨고 나면
꿈속은 현실이 돼

내 영원이 돼줘 내 이름 불러줘
Run away, run away, run away with me
세상의 끝에서 forever together
Run away babe 내게 대답 해줘

말해줘 yes '아니'는 no
Don't wanna stay 자 이제 go
너와 나 함께라면 하늘 위를 달려
말해줘 yes '아니'는 no
Don't wanna stay 자 이제 go
지금 날 데려가 줘 우리라는 마법에

캄캄한 밤 그 계단 밑에서
널 본 순간 마법은 시작됐어
네 눈물로 주문을 만들자
다신 울지 않게

내 영원이 돼줘 내 이름 불러줘
Run away, run away, run away with me
세상의 끝에서 forever together
Run away babe 내게 대답 해줘

말해줘 yes '아니'는 no
Don't wanna stay 자 이제 go
너와 나 함께라면 하늘 위를 달려
말해줘 yes '아니'는 no
Don't wanna stay 자 이제 go
지금 날 데려가 줘 우리라는 마법에


Ecco una serie di risorse utili per TXT in costante aggiornamento
Tutti i TESTI delle canzoni di TXT